2014 Season
Founded in Meadville in 1956, the Erie Thunderbirds Drum & Bugle Corps has a long-standing tradition of musical excellence and public service. This year is the rebirth of our competitive corps and we are looking for musicians who are dedicated, willing to learn, and who want to participate in an outstanding activity.
Our next rehearsal is on April 27th, 2014 from 2:00 to 6:00 PM at St. Stephen's Church. We ask you to please arrive at 1:45 so we can begin rehearsal at 2 PM. For more information, please visit the Facebook Event Page. Please wear comfortable clothing/shoes and bring your music, equipment, a music stand (if you have one), and a friend. There will be an incentive for bringing friends to practice over the next couple months, so the more the merrier!
New Leadership Team Announced
The excitement of the Perry 200 parade has stirred an interest in some of our members to continue the great tradition of the Thunderbirds. I am happy to announce there is a group of dedicated individuals who are ready to take the reins and lead the corps into its next era. They are young, talented, and passionate about the Erie Thunderbirds. I think you will agree with me and the Board of Directors that this group of young members should be encouraged and supported as they embark on another re-birth of the Erie Thunderbirds Drum & Bugle Corps. 

They have stepped forward. They have made the commitment. And they are ready to lead. Here are the names and responsibilities of the new Erie Thunderbirds team:

Sean Bartlett, Corps Director 
Vincent Lucente, Assistant Director
Kelly Matlak, Logistics Coordinator 
Matt Chiaramonte, Recruiting Coordinator
Karen Paradise, Membership Coordinator 
Cherri Campbell Godfrey, Graphics Design Coordinator 
Debbie Salorino, Marketing Coordinator 
Tom Corso, Events Coordinator 

-Joe Salorino, Board President
Perry 200 Parade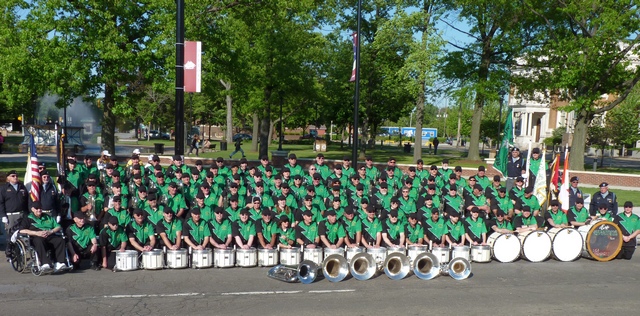 On May 22, 2013, the Erie Thunderbirds participated in an historic event; the Perry 200 Grand Patriotic Parade. The day was an unexpected colossal success attracting a record number of members, old and new, from more than 13 states, three countries, and two continents. Nearly six decades after its inception, with 70 brass, 32 percussion, and 16 honor guard, the Erie Thunderbirds was alive and well once again!